Yala National Park is a famous wildlife reserve in southeast Sri Lanka. Yala has become a popular destination for nature enthusiasts and wildlife lovers with its diverse ecosystems, captivating wildlife, and stunning landscapes.
Despite its relatively compact size, the park boasts an impressive array of habitats, including dense forests, grasslands, lagoons, and coastal zones. This diversity allows for a thriving ecosystem that supports various wildlife species. From elusive leopards to vibrant birds, Yala provides an extraordinary canvas for photographers seeking to capture nature's wonders.

Yala is divided into five blocks, with only two, Block 1 and Block 5, open to the public. Block 1 is the most popular, with a higher density of wildlife, and is especially known for leopards. But as with anything in life, there are pros and cons. Block 1 is massively congested with hundreds of jeeps jockeying for position.

Preamble

This post outlines my experiences from a photographer's perspective, even though shooting wildlife is not my primary photography focus. I took this trip with my wife and three kids as part of a two-week vacation in Sri Lanka. We spent two nights in Yala and chose Leopard Safaris, an all-inclusive, eco-friendly wilderness camp. See the section at the end for my comments on Leopard Safaris.

We arrived at camp in time for lunch and went on four safaris, one each in the morning and evening across two days. Our first two safaris were in Block 1, and the last two were in Block 5. Every safari was exciting — the air filled with anticipation as you ventured into the wilderness. The Leopard Safaris camp is close to the less-used Katagamuwa entrance area for Block 1, which was a massive advantage. This area's open terrain and scattered trees provide excellent opportunities for capturing animals in their natural habitat. More importantly, this area of Block 1 is less congested, and we were one of the first jeeps into the park in the mornings and didn't have to deal with the circus of jeeps.
Based on my experience, I highly recommend visiting Yala National Park if you're considering it. For the best experience, the details matter, such as where you stay, the hotel or camp you select, who you pick as your safari operators, and the areas within the park that you choose. Here's a quick tour of Yala through some of my photos.
The Star Attraction: Leopard Encounters
One of the most iconic residents of Yala National Park is the leopard. Yala has one of the highest leopard densities in the world, making it an excellent location for spotting these predators. We saw leopards on our last two safaris; both sightings were ironically in Block 5, not Block 1.
The first sighting was of a juvenile settling on a tree for the night at the end of the day. The second sighting was of two juveniles soon after we entered the park (we were the first jeep); they were sitting in the middle of the dirt road. The experience of seeing a leopard in the wilderness was magical, especially after coming close in the first couple of safaris. Haritha, our guide, was phenomenal in tracking the leopards through sheer perseverance. He was able to use the alarm calls of other animals, especially monkeys, to track these leopards.
Yala's Other Mammals

While leopards steal the spotlight, Yala National Park is also home to many other wildlife. We saw most of the mammals the park is famous for, including elephants, crocodiles, water buffalos, monkeys, samba deer, sloth bears, mongoose, and wild boar.

We saw lots of elephants, including tusked ones, which are rare to see (supposedly 6% of the elephants). There is something about observing elephants in their natural habitat that is serene and exciting. On two occasions, we had close and personal encounters with an elephant that was exhilarating.
Beyond Mammals

Bird enthusiasts will also be delighted by the park's avian diversity, which includes both resident and migratory species. We saw lots of birds, including raptors, such as crested serpent eagles, white-bellied sea eagles, and ospreys; storks, such as painted storks, Asian openbill storks, and Eurasian storks; and Malabar pied hornbills, ibis, herons, egrets, peacocks, parrots, flycatchers, bee-eaters, kingfishers, and much more.
My favorite was the painted stork, a large wading bird with distinctive pink and white plumage, long legs, and a long, curved bill. They are known for their striking appearance, and we saw several of these storks wading in ponds in search of fish and other aquatic creatures.

Landscape

Beyond the wildlife, the landscape in Yala has a distinct look, especially famous for its expansive grasslands, which cover a significant portion of the park. These grasslands are interspersed with small water bodies and shrubs. Most lakes have dead trees protruding, which makes for exciting photography.
That said, it's not ideal for landscape photography since you cannot get out of the jeep beyond a few designated areas.

On one evening safari in Block 5, we got to experience a truly magical sunset near the damn with lots of branchless (dead?) trees. My search for the perfect spot for the sunset photo took longer than expected; as a result, we got delayed leaving the park by the designated departure time but ultimately made it without getting into trouble.

Equipment & Tips
Before embarking on a wildlife photography journey in Yala, ensuring you have the right gear is good. I took two Nikon camera bodies, a D750 DSLR with a Tamron 150-600mm lens and a Z7 mirrorless with a Nikkor Z 100-400mm lens. In retrospect, I would take a lens in the 800mm range next time, either as a prime lens or through a teleconverter for an existing superzoom lens. I was shooting wildlife for the first time in many years and, as a result, had not invested in prime lenses in the 600-800mm range, a very pricey investment for Nikon's mirrorless bodies. At a minimum, I would take a 1.4x or 2x teleconverter the next time to extend my reach.
You don't need a monopod since you will be in a jeep and can use the armrest in the open cab. A wide-angle lens is also helpful for capturing landscapes or a large mammal, such as an elephant, in close quarters.

To state the obvious, the soft, warm light during the golden hours of sunrise and sunset offers the best lighting conditions for photography. The golden hour light casts a soft glow on the surroundings and brings out the vibrant colors of the animals'.
Experience with Leopard Safaris

There are a dime a dozen safari hotels and outfits in the area, with something to fit every budget and need. The high-end boutique outfits, such as Uga Chena and Cinnamon Wild, were unavailable. In the end, that turned out to be a blessing in disguise.
We chose Leopard Safaris after doing a fair amount of research. They are a boutique outfit somewhere on the higher end of the spectrum. You get a totally immersive experience, not just a stay at a camp combined with a few game drives. Noel, the owner, has used his vast expertise in this arena to plan a high-quality experience with incredible attention to detail. The tented cabins are luxurious, with an ice-cold AC to cool you off in the hot climate. Every meal we had was absolutely fantastic and well-presented. Only Sri Lankan food is served; every meal is a culinary experience. There were many favorites, but our first lunch with a black pork curry was a standout. Small touches, like a cold, scented towel offered to you as soon as you step off the jeep after a safari, or turning off the lights when the jeep re-enters the camp in the evenings, make it a unique experience. Some other highlights:
They have their own jeeps, converted Land Cruisers, with several small touches in the open cab to make it easier for photographers.
They have expert guides and trackers who know the best areas to spot everything from big cats to raptors, which in the end, improves your chances of photographing them in their natural environment. Noel joined us on one of our safaris as our guide. Haritha was our guide on all other trips. They were both outstanding.
Want an ice-cold beer or a soft drink while on a safari? No problem, there's an icebox ready accessible.

As stated above, their proximity to the Katagamuwa entrance is priceless. On most of our safaris, we were one of the first three jeeps to enter the park and one of the few vehicles in that particular area. I cannot stress the importance of this advantage enough.

The bottom line is that Leopard Safaris is an awesome outfit for the best possible Yala experience. I unreservedly recommend them. Stop your research and book with them; you will not regret it!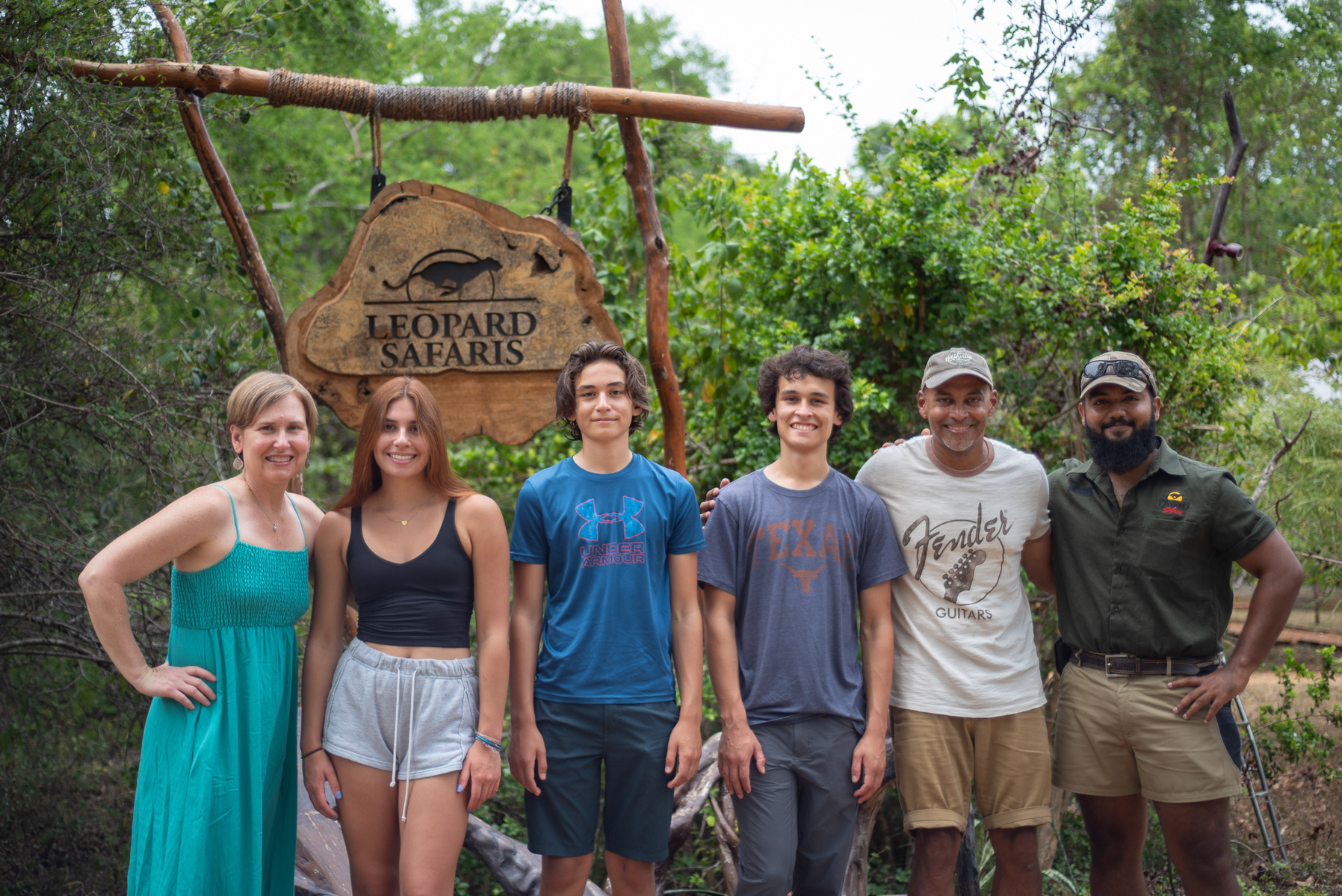 With the Benefit of Hindsight…

Honestly, I don't think I would do much different. If I were on a photography-oriented safari by myself without the family, I would optimize the available safari time to focus more on the wildlife beyond the star attractions. Sometimes the search for the elusive leopard can be all-consuming. For example, I would spend more time camped out near small lakes and ponds to get better photos of birds and other mammals.